Were you like me, waiting (non)patiently for the return of Crossing Lines on their 3rd season? The first two are available to stream on Netflix and the show was really good!
The main character is
William Fichtner
, who you've probably seen as the bad cop in Prison Break, but this time he comes back as a good cop,
Carl Hickman
, wanting to catch bad guys and deal with some old baggage.
There's also Carrie-Anne Moss (Matrix) and oh, the boss of the bosses,
Donald Sutherland
, a special agent who puts together a sort of Interpol team to uncover crimes that cross European borders.
The guy below
Donald Sutherland
is,
Marc Lavoine
, a super honest French guy who loves his team.
Carl Hickman is the FBI agent who kinda directs the team, and this team is formed as follows:
Tom Wlaschiha
as Sebastian Berger, a German IT genius with 1 facial expression accross the board. He's like the Penelope Garcia but with 0 charm. My least favorite character. Oh, and I just found out he's on Game of Thrones, hmmm shocking.
On the other side of the spectrum, we have hot headed Irish
Richard Flood
as Tommy McConnel, who comes from the ghetto and wants to do the right thing but struggles with a family of criminals.
Same as poor Eva Vittoria, by
Gabriella Pession
, a beautiful Italian ex interpol agent who's mob father was killed.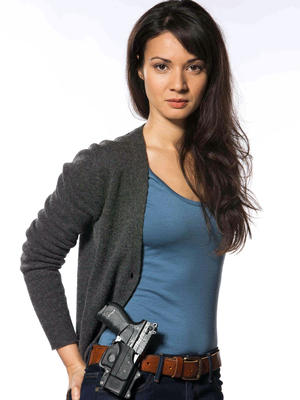 RIP Anne-Marie
RIP Sienna



We also have 2 girls that get killed and one new girl, Arabela Seeger by Lara Rossi, who comes right at the end of the season.
New girl

We get to see some of the characters personal struggles and of course, like it always happens to me, I get attached.

The last episode of season 2 ends in a tragedy, and we don't know if this beloved character dies or not. Fast forward 2 years later, I get a notification that Crossing Lines is back! I am ecstatic, log on Netflix, only to realize that the team was completely stripped, Arabella explains that after last year's tragedy (she never really says what happened) everyone in the team decided to leave, except her, although the German expressionless IT guy is in some office when Arabella goes to recruit him back to the team. HE GETS RECRUITED BACK??? Where's Carl Hickman, Tommy or Eva! I want them back!

Needless to say, they cast a bunch of good actors for this new seasons, but I am sorry, I am not ready to move on with this just yet. I have to mourn for the lost characters that I missed so much.
New cast....
Have you watched this show? Will you? Have you started season 3? Tell me what you think!